This page aims to get you packing right for your next or first gig. So let me prepare you to hit the road as a travel nurse.
Here you'll learn to:
pare down to the essentials,
streamline the process,
don't under pack or overpack,
keep organized,
approach the packing process,
categorize,
plan,
discern needs versus wants, and
purchase what's best.
Your Travel Nursing job will require essentials to be packed. Every Travel Nurse needs to know what to pack. You'll discover tips and tools throughout this page. What to bring on your Travel Nursing assignment, including must-have items, is suggested. Whatever you pack must be organized and light to save precious space.
If you are traveling by car, there is more room to pack things in and better organize by considering the size of your vehicle and whether it can tow a trailer. If you travel by air, you must decide how many bags you want to check. Be prepared to pay for each piece of luggage you wish to review, no matter how many. Of course, you will need to pack differently if you drive to your assignment or fly.
Pre-Checklist 1-3
1) Determine The Duration
Assignments have varying lengths, most are 13 weeks, but 4, 6, 8, and 26-week selections are also possible. Additionally, you may extend or go straight to your next assignment before returning home. For many travel nurses, different travel times require different packing strategies, so do your best to estimate how long you'll be away.
2) Consider The Location, Climate, and Activities
Assignment locations have different climates and may offer various activities which could lead you to pack other items. For example, there is no need to pack your bikini for an assignment in Alaska in the winter. Therefore, consider the weather and potential activities when developing your packing list.
3) Consider What The Travel Nursing Agency Provides Or Find Your Own
You need to know what your travel nurse housing provides by connecting with your recruiter or housing specialist to determine what is furnished. If you take company-provided housing, it's important to remember that different agencies handle housing differently.
Therefore, it's vital to inquire precisely what your housing accommodations will include. But don't accept ambiguous statements like "fully furnished" or "turn-key housing" because you may find out that expected items are not included. For example, "fully-furnished" may or may not have a TV. Some questions to ask:
What furniture and kitchen items are included?
Is a microwave included?
Is there a TV or DVD player?
What size is the bed (if you bring your bedding)?
What about amenities such as pools, a fitness center, or tennis courts?
Knowing the answers to these questions can ensure you have what is needed yet can travel as lightly as possible. You can also decide to purchase some items once you arrive. Be bold and ask your travel nursing company for more regarding their housing package.
Most housing includes basic furniture and appliances, but many still need cooking utensils, pots, and pans. But you will likely be expected to bring linens, towels, and kitchenware.
If you opt for the housing stipend and plan to find your own accommodations instead, you can work directly with the property manager to verify what they do and do not furnish.
Making a List and Checking It Twice
Once you know what the agency provides and the weather and activities you'll be engaged in during your assignment, you can form a list of items to bring. Here's a general categorized list of things to consider.
Household items:
• Sheets and towels • Blankets, comforter/duvet • Shower curtain, if not provided • Laundry basket • Cooking utensils • Dishes and glassware • Pots and pans • Dishtowels • Coffeemaker/Tea kettle • Small vacuum • Flashlight • Batteries and chargers
Personal electronics:
• Cell phone/smartphone • Alarm clock • Camera • WiFi router, if not included • Laptop, tablet • Small stereo/radio or digital speakers
Rent or Bring (if not provided):
• TV • DVD player or streaming devices • Microwave
Clothing:
• Uniforms per facility • Dressy and casual clothes • Workout clothes and swimwear • Sleepwear, bathrobe • Shoes • Sweaters, coats, and other layers • Umbrella, other weather needs
Consider investing in double-duty clothing, like multi-use wraps, crushable hats, self-cooling and heating fabrics like merino wool layers, bug-repellent clothing, wrinkle-resistant shirts, quick-drying activewear, and undergarments, casual sneakers, UPF-proof clothing, and compressible jackets. Popular athleisure brands include Lululemon, prAna, and Athleta to comfortably travel.
Accessories: Bring accessories like a money belt, scarf, or sarong (which can be used for an airplane blanket, coverup at the beach, or throw over your dress on a fantastic evening). In addition, a collapsible tote or day bag for any extra items you might acquire on your travels. Finally, if traveling to a city or destination prone to pickpocketing, pack some pickpocket-proof clothing and gear.
The Clothing Minimalist
This is a generic minimalist packing list for travel nurses, not considering personal preferences and assuming the travel nurse will be gone for longer than the course of 1 assignment (13 weeks).
– 2-3 tee-shirts
– 2-3 dress or graphic tees
– 2-4 casual/underlayer tank tops
– 2 pairs of jeans
– 1 casual pant
– 3 pairs of leggings/bottom layer pants
– 1 button-up shirt
– 2 casual dresses/2 men's casual wear shirts
– 2 pairs of shorts
– 2 pairs of athletic bottoms/2 athletic tops
– 1 pair of sneakers
– Hiking shoes
– Water shoes/sandals
– 1 pair of dress shoes
– 1 pair of flip flops
– 1 pair of walking sandals
– 15 pairs of underwear
– 2-3 bras in neutral colors
– 2 sports bras
– 4 pairs of 'work socks' (e.g., compression stockings)
– 7 pairs of wool/no-show socks
– 1-2 Sweatshirts/mid-layer
– 1-2 Sweatpants/pajamas
– 1 Warm sweater
– 2 baseball caps/winter hats
– Gloves/scarf/boots
– 1 light jacket, 1 rain jacket, 1 heavy jacket
– Bathing suit/swim trunks
What to Purchase & Pack In Each Category
CLOTHES TO PURCHASE & PACK
Gloves
Scarves
Laundry Kit
Hiking Boots
Sneakers
Snow Boots
Dress Shoes
Sandals
Belts
Ties
Jewelry
Purses

TOILETRIES TO PURCHASE & PACK
Shampoo
Conditioner
Styling Tools
Facial Cleanser
Face Lotion
Moisturizer
Contact Lenses
Shaving Supplies
Makeup
Birth Control/Medication
Nail File
HOUSEHOLD ITEMS TO PURCHASE & PACK
Personal Portable Oven This is great for slow cooking and reheating leftovers without a microwave. The design is great for travel nurses because it's lighter, smaller, and cheaper than a microwave oven.
Mini Portable Oven This product is a miniature slow-cooking oven that heats your food gradually and efficiently from home or work.
Travel Coffee Press
The travel coffee press lets you make your coffee in the same tumbler you'd take, saving you time and money!
Portable Steamer
The portable clothes steamer eases the packing load by replacing the heavy iron. In addition, it reduces your morning routine by quickly and effectively removing wrinkles from your scrubs.
Portable Mini Clothing Steamer
Clear Garbage Bags This is hands down the easiest way to transport your clothes by packing and stacking efficiently. First, tear a tiny hole at the bottom of the bag and place it over the hangers.
3M Command Strips 14 pack
A great way to add some decor and a personal touch to your new space without the risk of damaging walls with tacks or tape.
2-pack Tide To Go Instant Stain Remover
Nurse Coffee Mugs Buy "Nurse Mugs" at Amazon
An easy-to-use coffee machine is a great companion for a nurse who has long shifts and wants energy throughout the day. Buy "Coffee Makers" at Amazon
Small Vacuum One, you can seal all your clothes in the space bags. Second, sometimes a swifter won't cut it.
Faucet Water Filter Sometimes, it has a funny taste, no matter how good the water is. A faucet water filter only takes a little room to pack but will improve water flavor.
TECH TO PURCHASE & PACK
You'll also want to remember to pack electronic adapters and converters for those traveling abroad. Other tech-related items for photographers to pack are a sturdy camera bag, backup batteries, memory cards, and a lens cleaner. And remember smartphone essentials like a backup charger, a waterproof case if you're headed out on the water, and a phone stand or tripod for photos.
Multi-Wall Outlet Surge Protector
Some places you'll stay will have only one outlet sometimes. This little brick lets you charge 4 USB devices simultaneously and leaves you with three wall sockets for whatever you need.
Waterproof Bluetooth Speaker The Shower speaker is thoroughly resistant to water, dust, and sand. So you can get it wet, muddy, covered in snow, and then hand washes it when you go in.
Smartwatches and Activity Trackers
Smartwatches are a great way to keep up with your daily steps, heart rate, and so much more; not to mention, it allows you the chance to leave your phone in your work bag and not have to worry about it! For example, the Apple Watch is durable, waterproof, and stays charged all day. It also comes with interchangeable bands. In addition, the Fitbit and Samsung Smartwatch are popular smartwatches and fitness trackers.
Mini Projector A portable mini projector projects an HD screen larger than any of your housing would provide. The small box packs easily in a supplied bag with an HDMI cable.
Fire Stick
This gadget is your one-stop shop for all things streaming.
Wi-Fi Router
You don't have to pay your internet company, plus no turning in their router when you move.
Extension Cords and Power Strips
Consider An Electronic Accessories Travel Organizer An accessories travel bag designed for electronics saves space and offers better access.
Consolidate Electronics, If Possible
Consider these consolidation tips:
Leave The Camera Behind: Most mobile phones have excellent cameras these days. In addition, many of them come with all the bells and whistles that moderately priced cameras include. So unless you have a friendly camera, using your mobile phone is as good.
Leave The eReader Behind: Kindle, Nook, Kobo, and Google Play all have apps for iPhones and Android devices. So you can download your books to your phone just as quickly as possible with an eReader.
Leave The Desktop Behind: If you have a desktop and a laptop, there is no need to bring both. Opt for the computer.
Consider A Wireless Speaker
Consider purchasing a wireless speaker that works with your mobile device. There are inexpensive options that work just fine. More expensive options also deliver high-quality sound, like from Bose.
SLEEP-RELATED ITEMS TO PURCHASE & PACK
Blackout Sleep Mask These masks block out 100% of all light, allowing you to sleep in broad daylight. In addition, the design specializes in reducing pressure on your eyes and nose, so it feels like you're not wearing anything.
Portable Sleep Therapy This device emits a soothing noise that helps you relax and tune out any noise pollution to help you fall asleep faster and give you a whole night's rest.
Memory Foam Mattress Topper
The last item to ensure great sleep is a memory foam mattress topper. This is an automatic upgrade to your mattress wherever you are. Available in different sizes depending on your needs.
Inflatable Couch Pull-Out Mattress
These are useful for when you have a guest over or need to sleep over somewhere.
Dodow Sleep Aid Device
This metronome effect helps redirect your focus, reduces anxiety, and promotes truly restful nights of sleep.
MISCELLANEOUS TO PURCHASE & PACK
There are also some items that you may not think to pack but should, like an electronic tracker, duct tape, toilet paper, a decoy wallet, or a whistle.
Banking Contacts/Information
Emergency Contacts
This simple hamper saves time and space, an asset that's rare in these temporary houses sometimes. So instead, they hang over your door.
Consider A Cosmetic and Grooming Travel Bag Using a bag designed to carry toiletries will save space and significantly improve accessibility.
Travel Makeup Bags
Travel Cosmetic Bag
A simple on-the-go bag for toiletries like makeup, hair products, and brushes. It has a flat bottom and stands on any counter surface, so it's an easy packing tool and doubles as a vanity organizer.
This compact tool acts as a knife, corer, peeler, zester, etc.
Consider A Leatherman Consider a Leatherman or similar device. These "multitool" products can replace 15 to 50 different tools and are tiny by comparison.
Portable Light Therapy Lamp The lamp mimics natural sunlight to help with fatigue, stress, or even weather blues.
Travel Journal
Keeping a travel journal is a great way to motivate you to get out and explore in your downtime or plan your next adventure. Plus, it's a keepsake of all the memories you created.
Amazon File Folder Travel nursing comes with a lot of paperwork to manage. However, managing all your licenses, certifications, vaccines, and lease agreements is easy without lugging around an entire file cabinet.
Postage Stamps Sending a sweet postcard or letter from your new city is fun to keep involved with friends and family. Also good to have on hand for general 'adulting.'
Foot Massager After 12 hours on your feet, what could be a more fantastic luxury than a foot massager with deep kneading and Shiatsu massage functions? Use it while relaxing in front of the TV, reading a book, or even studying if you have to. Buy "Foot Massager" at Amazon
Infusion Water Bottle Many people don't enjoy plain water, but with an infuser water bottle, you not only add a taste of fresh fruits and possibly herbs and spices to your water but also energize vitamins and minerals. Buy "Infusion Water Bottle" at Amazon
Consider Pack-Towels To Save Space Consider Pack-Towels as a replacement alternative while traveling from place to place. Backpackers use these towels to save weight and space on long treks. They're highly absorbent and quick drying. These microfiber towels are another great option.
Other Miscellaneous Good Ideas

EXERCISE THINGS TO PURCHASE & PACK
Resistance Bands
These highly portable, lightweight rubber bands give you a great workout and save you money, while their design is a breeze to pack and move.
PROFESSIONAL GEAR TO PURCHASE & PACK
Digital Stethoscope
TIP: Consider making or buying a stethoscope name tag for it.
Buy "Littmann Stethoscope" at Amazon
Buy "3M Littmann Core Digital Stethoscope" at Amazon
Nursing Shoes Not just ordinary shoes, but shoes designed explicitly for nurses! Buy "Nursing Shoes" at Amazon
Packing Shoes To save space, stuff socks inside your shoes to prevent your shoes from getting mashed or damaged during the move. Also, pack them in shoe bags for added protection and organization. Finally, consider a shoe storage bag like this one to help save even more space.
Scrubs Buy "Nurse Scrubs" on Amazon
Nurse Compression Socks Nurses spend most of their shift standing up, and compression socks help boost circulation and support the veins by preventing blood pooling. Buy "Nurse Compression Socks" at Amazon
Nurse Bags and Stethoscope Cases Fit your stethoscopes, mugs, scissors, and other paraphernalia inside! Nurses also love these nurse bags as they hold every tool they need. Buy "Nurse Bags" at Amazon
PERSONAL PROTECTIVE EQUIPMENT TO PURCHASE & PACK
You need to consider COVID by:
keeping yourself healthy,
packing appropriately,
researching your site,
stress management tools, and
having a good understanding of the facility's PPE capabilities, volume, and acuity.
Buy "PPE for Nurses" at Amazon
Mask Extender/Clips Give those nurse ears a break with these mask extenders. These straps are suitable for most face masks and prevent them from slipping below the nose. Buy "Mask Extenders" at Amazon
Car Emergencies Readiness
Be sure to pack roadside emergency kits, jumper cables, and battery packs in case of a car emergency — like a flat tire or having your battery die. So be prepared.
Roadside Emergency Kit: Look for one with jumper cables, reflective triangles, ratchet straps, seatbelt cutter tool, etc.
Power Station: jump starter, air pressure, and USB ports.
First Aid Kit
Also recommended is traveling with a travel first-aid kit, including tweezers, first-aid ointment, bandages, travel-sized hand sanitizer, sunscreen, and insect repellent.
The Red Cross has a first aid kit list.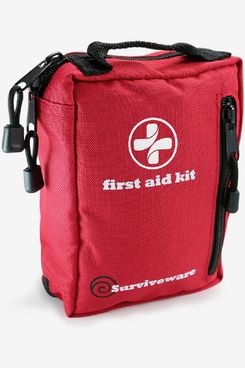 Surviveware
This small First Aid Kit is for home or car and attaches easily to backpacks and bikes.
AT AMAZON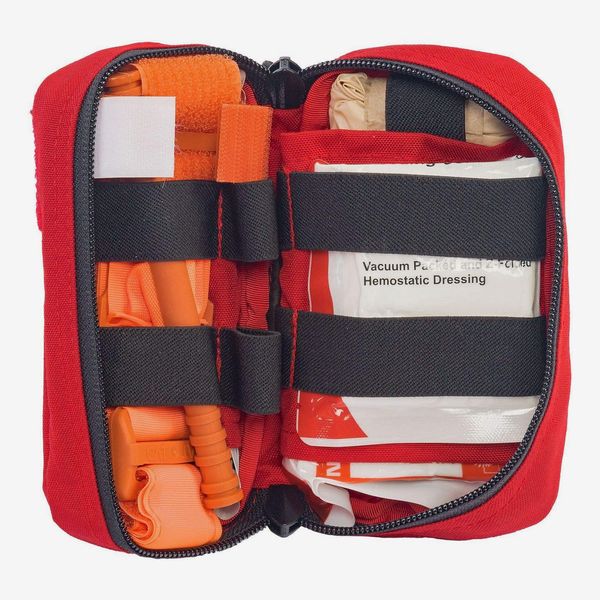 North American Rescue M-FAK Mini First Aid Kit with Tourniquet This one's small (8.3 inches by 3 inches) and comes with the items most requested by first responders, including blood-clotting powder and a top-of-the-line CAT tourniquet. AT AMAZON
TO "FEEL AT HOME" THINGS TO PURCHASE & PACK
Digital Photo Frame
Missing family? Friends? Your dog? Pack this small digital photo frame and make any place feel like home. It can cycle through hundreds of hand-selected photos on its high-resolution screen.
Other comfort items that are easy to transport are Yankee Candles, throws, pillow shams, framed photographs of those you love, wall art, refrigerator magnets of visited places, and baskets for display and/or storage.
Consider bringing luxury items and hobby stuff.
Having FUN
"50 States, 5,000 Ideas" Travel Book lastly, make the most of every assignment by exploring the beautiful sites around you. This book by National Geographic illustrates must-see parks, beaches, museums, and other unique landmarks in all 50 states.
How to Get It All Organized & Save Space
First, explore USPS and UPS shipping options. Then, to help keep things organized, many Travel Nurses love using packing cubes and/or compression sacks. First, try compression bags to save space when packing clothing and other cloth items. These bags are sometimes referred to as "stuff sacks." They let you stuff them full of clothing or related items and provide a mechanism for compressing them to save more space.
Backpackers typically use this type for their sleeping bags, but it works just as well for clothing. This type is commonly used to save space when packing suitcases.
Vacuum Storage Bags These handy plastic bags help double your luggage space by sucking the air out of the bags with a bit of a hand pump (or vacuum if you have one). The airtight bags are waterproof, protecting your clothes and linens from travel mishaps. These come with plenty for the price and a lifetime warranty if they should get damaged.
Vacuum Storage Bags
If you pack an embarrassing number of suitcases for traveling, look into these vacuum storage bags to fool the onlookers. By sucking the air from the bags, your clothes will shrink to half the size = double the packing!
Luggage Cubes Space Saver Travel Storage Bags
The space bags cut the size by about half, protecting them from dirt and spills on the road. These ones don't even require a vacuum to seal.
Under the Bed Storage Bins
Often, you'll have limited storage space. These bins are great for creating extra room to tuck things away. They also fit well in a car and easily transport clothes, accessories, and odd items.
Try A Tackle Box. The compartments need to be more flexible, and tackle boxes don't use space best. However, a tackle box might be good if you want something durable and convenient.
The Packing Cubes made by eBags are wicked famous for keeping things organized and accessible. The bags have mesh tops that allow you to see the contents. They also come in different sizes and colors. The different colors will enable you to color-code the contents for even better organization. You can place items in the Packing Cubes and then place the packing cubes into a suitcase or a storage container. So you don't have to dig through your stuff to find what you're after. Instead, simply find the Packing Cube it's stored in, and you're done.
eBags Classic Packing Cubes 3pc Set (Black) Buy Now
Packing Cubes Whether you are loading your car for a road trip or packing for a flight to your next assignment, these packing cubes are super helpful for organization and making the most of whatever luggage space you have.
Consider Storage Containers Instead Of Luggage
They're more durable than standard packing boxes, and if you purchase clear containers, you'll have the advantage of seeing what's inside. These containers from Rubbermaid are an excellent option. Also, these containers come in all shapes and sizes, so be sure to shop around for the best alternative for your particular vehicle.

Consider Mini Containers To Save Space Mini containers are an excellent way to save space. You can go to Amazon and search for "small containers."
Utility Wagon You can move an entire apartment in fewer loads! Use it to bring in groceries—no more multiple trips from your car.
Packing tricks
Tightly roll your clothing. It takes up less space that way.
Place any heavy or misshapen items, such as shoes, on the bottom of your suitcase. That way, everything else can fill in the cracks.
Put your socks inside your shoes. The inside of your shoe is an empty space, so why not fill it?
Protect any fragile items by wrapping them in socks or heavy clothing and placing them in the center of your suitcase.
Place anything that might spill inside a plastic bag. If you want to avoid a mess, take preventative measures.
Pack tightly. Packing your things tightly saves space, helps prevent the wrinkling of clothes, and protects your fragile items.
Consider clear storage containers. Clear storage containers are a great option if you travel by car because you can see what is inside.
How to Pack a Car
When you pack your car, put anything you need in the front seat for easy accessibility. You want to avoid digging around or moving oversized items to access toiletries, paperwork, chargers, and clothes you'll need during transit.
Always pack your must-haves first if everything fits to avoid unpacking the whole car if you need to re-prioritize. When packing, try to distribute weight evenly on both sides of the car to preserve your tires and reduce the wear and tear on your vehicle.
All About Pets
Keeping copies of medical records, vaccination records, or breed certifications handy may be necessary when you must stop and stay at a hotel or quickly give them to your new landlord without digging for them.
Pet supplies: If you bring your cat or dog on assignment, you must prepare accordingly.
Make sure your pet is microchipped, and take a couple of clear photos on your phone, so it will be easier for you to find him if he gets lost.
Attach current ID tags to his collar. Remember to include your full name and phone number if you want to keep the address the same each time you move.
Have his medicines on hand and bring a file (either on paper or on your phone) containing his health certificates, medical history, and the vet's contact details that last treated him.
Bring his bedding and blanket, as well as his favorite toys. Having something that smells familiar to him will ease the anxiety pets often experience during travel.
Remember to pack clean-up bags or cat litter!
Crate or carrier
Microchips + paperwork
ID tags with contact info
Medications, health certificates
Bedding, blankets, toys
Food + food bowls
If traveling with a pet, you will also want to remember the following: food and treats; food and water bowls; bed; favorite toys, paperwork (for a microchip, health records, license, etc.); local vet information; clean-up bags, litter, and box (if needed); collar with ID/contact tags and leash. In addition, crates are recommended for road trips, and you can bring special travel water bottles for pets with an attached drinking cup that can later be used on hikes and other adventures.
Supplies for Your Pet
Planning on bringing your fur baby? Like you, your pet will be adjusting to their new surroundings, so bringing along some items that will make them feel at home is wise. Consider bringing:
A bed or blanket from home
Toys that they love
Their food dish
Their leash
The food they usually eat; and
Some treats for the road
Your pet will feel displaced and possibly stressed from the flight or road trip, so whatever you can do to make them feel at home will benefit you.
If you are flying to your destination, find out your airline's rules for traveling with pets on board.
Essential Documentation
Keep a binder, files, or Google folder with any documentation or records you may need easy access to throughout your trip when you arrive at your new assignment city or in case of an emergency.
Vehicle Documentation: When traveling across the country, you may need quick maintenance on your vehicle. Did you buy a battery at a nationwide auto store? Did you get tires with a warranty at a national store? Having those documents handy may mean free or discounted service.
Certifications: Scan your certifications and licensure information and save it to a Google folder. That way, you have it ready if your QA specialist needs something quickly so you can start your assignment on time.
Medical Records: If you have a condition that requires emergency responders to know about, it may be helpful to keep these handy and not buried under suitcases or, worse, at home.
You'll need you:
driver's license
social security card
car insurance
travel documents
insurance policy
roadside assistance agreement
Keep digital copies on your phone or laptop if you need to produce them.
Also, make sure to bring the following:
the contact information for your staffing company and recruiter
address and phone number of your new workplace
details of your temporary lodging
A state or federally-issued identification card (usually a driver's license or passport)
Birth Certificate
Copies of nursing license (Certification for Certified Nursing Assistants)
Copy of your most recent physical
Copy of your most recent Tuberculosis screening
Copy of current Basic Life Support Certification (CPR card)
Debit and credit cards
Car registration and insurance information
Contact phone numbers (facility, recruiter, manager, doctor, family members)
Immunization records
Prescription information
Double-check that you have your debit and credit cards and any customer loyalty cards that can earn you points in nationwide stores.
Immunization Records
As a nurse, you are around people all the time. Therefore, it is essential to always have an accurate immunization record.
You most likely have completed all compliance before boarding that plane, but you may have a need to present actual documentation. Double-check with your staffing firm or recruiter about the items you must take on the assignment.
Emergency Phone Numbers

Bring a list of emergency phone numbers with you and keep a hard copy version in your wallet and an e-list on your phone.
You should include the contact details of the following:
You're next of kin
your doctor
your dentist
your staffing agency
your insurance agent
Also, list the contact details of a doctor, dentist, ER, and vet at your destination if you need help immediately upon arrival.
Apps and Websites
These apps and websites can help you develop, refine, save, and create lists.
With all this knowledge, you are now all set to go. Godspeed to you.
Disclosure: This article includes affiliate links from Amazon, where a small commission is earned. Your purchase helps support this site's work.